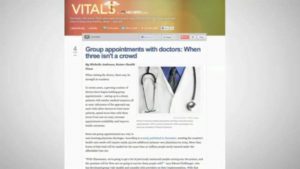 Doctors are increasingly seeing multiple patients at a time.
Group health care could be gaining a whole new meaning.
Lately many doctors have been holding group appointments, seeing up to a dozen patients with similar ailments at the same time.
Supporters of the practice have cited better availability and even tout better treatment outcomes.
The December issue of the Annals of Family Medicine featured an article noting that it is also a means of alleviating the increasing shortage of medical professionals.
How does it work?
Ideally, everyone involved would be there for the same problem – diabetes, for example. The doctor would ask everybody in the room to take off their shoes so he could check for sores and infections.
After the exam, the physician and a nurse stick around and answer questions. The group shares personal stories. An average communal appointment lasts 2 hours.
The patient's co-pay usually remains the same regardless of the number of people in the exam.
In a survey conducted by Harvard Vanguard, one of the champions of the program, 77 percent of group visit patients said they would do it again.
Do you think group appointments are a good idea?