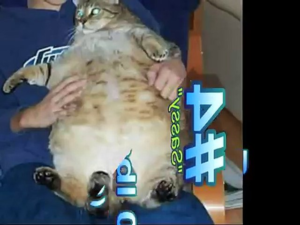 #5 "Unnamed"
Xu Jirong holds his super fat cat at home in Qingdao, a coastal city in east China's Shandong Province, Feb. 16, 2006. Xu said his nine-year-old pet weighs 15 kilograms and that its "waist" measures around 77 centimeters, longer than a girl's. The cat likes meat but does not eat fish. It eats one steamed bread and half a bowl of chicken heart and some pork every day
#4 Sassy aka "Munchkin"
The web named it "Munchkin the Monster Cat", but his real name is Sassy. Sassy burst into Internet famedom via viral email. Although some thought he was a clever Photoshop fakery, it turned out that Sassy was real:
Sassy was born in Virginia, and moved to Canada in 1991 with me. He was a kitten then and after we had him fixed he started getting fat. I never thought anything of it cause he slept so much. His visits to the Blair Animal Hospital did not find any problems with him and could not figure out why he was so fat. He was on diet food for about 8 years. In 1999 he was noted as being 15.9 kilos. in 2001 he was listed as 40 pounds and then lost 8 when he died. He did not eat an excess amount of food and did not eat table scraps. A bite or two of chicken or tuna was his favorite. I miss him very much and often find his picture posted on various web sites.
#3 "Mikesch"
Hailing from Germany is Mikesch, a black-and-white house cat who weighed about 41 lbs. His owner, an elderly man who had to move to a nursing home, fed him more than 4 pounds of minced meat every day!
Mikesch was taken away from his owner and was put on a strict diet by the Berlin animal shelter:
"You can call it cruelty to animals," said shelter veterinarian Karin Bartell, as the cat stared straight ahead with a bored look.
"It's a problem for joints and the heart. The cat can't clean itself because he is too fat. He walks three or four steps and is completely exhausted because the heart no longer works properly and the cat can't breathe normally anymore."
The latest story is that Mikesch missed his owner (or his minced meat) so much that he is now on a hunger strike!
#2 Tube cat aka "Tulle"
Tubcat is not only the first namecat but also the first cat-related internet phenomenon on record. Upon seeing Tubcat's astounding girth, many netizens cried foul, claiming that such a monstrosity could not be the product of man and therefore must be the product of Photoshop. Sadly, they were mistaken; the most famous picture of Tubcat is actually one that appeared in US Weekly way back in 2001 when anyone still read that shit.
Before LOLcats, before Longcat or Ceiling Cat and before the meme-vomiting 4chan imageboard (circa 2003) even existed, Tubcat was already hard at work making internet great. In 2002, Tubcat captured the hearts and minds of teens and preteens alike. With phonetic spelling, poor grammar and the aggressive abuse of netspeak, the website that started it all was written to parody the stereotypical OTI writing style of 16-year-old girls . Since the site was written before MySpace (2003) and other customizable Web 2.0 sites existed, it originally served more as a parody of sites hosted on Geocities or some other free webhost.
The diabetes-afflicted Tubcat met the reaper in 2008 at the ripe old age of 13 and the ripe round weight of 43 pounds. Although there was – and still is – only one Tubcat, there are many other tubby cats that have fallen into the tubes; some people also call these fine felines "tubcats".
Not to be confused with fat cats, the corporate scumbags that everyone loves to hate, nor with Tubgirl, which is something else entirely.
#1 Katy
A five-year-old Siamese from the town of Asbest in the Ural mountains, weighs in at 23 kilograms (50 pounds) – slightly more than the average six-year-old boy.
"She doesn't really eat that much," owner Tamara Yapugova told the Komsomolskaya Pravda newspaper.
"She has a couple of fish in the morning and about 200 grams of meat in the evening.
"We give her vitamins… and we don't begrudge her milk mixed with sour cream. Dairy products are very good for her after all."
Katy's owners are trying to get her recognised in the Guinness Book of Records as the fattest living cat in the world.
The record is currently held by a cat from the US state of Minnesota, which weighs a mere 18.5 kg.
But although Guinness is aware of Katy's bid, a spokeswoman told BBC News Online that nominations in this category were no longer being accepted.
No appetite for sex
She said the organisation did not want to encourage people to overfeed their pets.