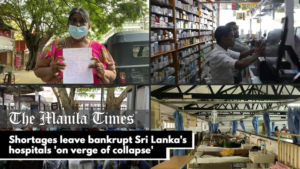 Shortages leave bankrupt Sri Lanka's hospitals 'on verge of collapse'
An unprecedented economic crisis in Sri Lanka has dealt a body blow to a free and universal healthcare system that just months earlier was the envy of the country's South Asian neighbours.
Suffering from diabetes and high blood pressure that inflamed her joints, Theresa Mary travelled to the capital Colombo for treatment at the National Hospital of Sri Lanka, but she was soon discharged as the dispensary had run out of subsidised painkillers.
"Doctors asked me to buy medicines from a private pharmacy, but I don't have money," Mary, 70, told AFP.
Video by: AFP
Subscribe to The Manila Times Channel – https://tmt.ph/YTSubscribe
Visit our website at https://www.manilatimes.net
Follow us:
Facebook – https://tmt.ph/facebook
Instagram – https://tmt.ph/instagram
Twitter – https://tmt.ph/twitter
DailyMotion – https://tmt.ph/dailymotion
Subscribe to our Digital Edition – https://tmt.ph/digital
Check out our Podcasts: Spotify – https://tmt.ph/spotify
Apple Podcasts – https://tmt.ph/applepodcasts
Amazon Music – https://tmt.ph/amazonmusic
Deezer: https://tmt.ph/deezer
Stitcher: https://tmt.ph/stitcher
Tune In: https://tmt.ph/tunein
Soundcloud: https://tmt.ph/soundcloud
#TheManilaTimes