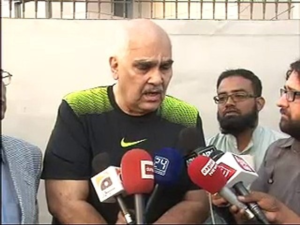 Notable scholar and Urdu poet Dr Jamiluddin Aali passed away on Monday in Karachi, a private TV channel reported.
Aali had been ill for past several years and was being treated at a private hospital in Karachi. The 90-year-old was suffering from diabetes and respiratory related illness. He has left behind his wife, three sons and two daughters.
The poet – whose family migrated from India to Pakistan in 1947 – was awarded a number of awards for his achievements in the Urdu literature. He was awarded Pride of Performance award in 1991 and Hilal-e-Imtiaz in 2004.
Aali also remained chairman of the Urdu Dictionary Board for a period of three years. His most notable national songs are Aye Watan Ke Sajelay Jawanoo, Jeevay Jeevay Pakistan and Mera Paigham Pakistan, which have been sung by Noor Jehan, Shahnaz Begum and Nusrat Fateh Ali Khan respectively.
In a separate development, Prime Minister Nawaz Sharif expressed deep grief on the demise of the Urdu literary figure. He prayed for eternal peace of the departed soul and lauded the literary services of Aali for the country.
Nawaz said Jamiluddin Aali's death had left a big vacuum in the literary history of the country that would be very hard to fill in the times ahead.