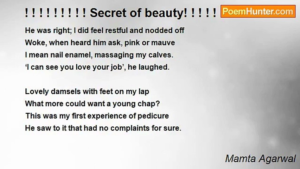 Sitting with my feet in a hot tub
Full of soap suds and a gentle scrub.
The smart, young attendant said with a smile
Mam, just let go and relax for a while.
Feet have more than a dozen acupressure
Points, it will take just under an hour
Before I am done, and your dainty feet
Feel rejuvenated, and you sleep in your seat.
He was right; I did feel restful and nodded off
Woke, when heard him ask, pink or mauve
I mean nail enamel, massaging my calves.
'I can see you love your job', he laughed.
Lovely damsels with feet on my lap
What more could want a young chap?
This was my first experience of pedicure
He saw to it that had no complaints for sure.
He did everything with focus and flair
A quality I find has become quite rare.
Was pleasantly surprised, well, a wee bit
To spot a senior citizen, beside me sit.
Catching up with his clients on mobile,
While I scribbled merrily, for a while.
Our eyes met, he said, I Have diabetes
Doctor's orders must take care of my feet.
There was life buzzing in the parlour.
Outside it was drizzling at that mid noon hour.
I got up feeling light, a spring in my feet.
And stepped out with a parasol, on the street.
My mother's words came rushing to my mind, she said
Chinese used to bind the feet of young girls, I read
Cruel, indeed; don't get entrapped by painted lips and cheeks.
Told my brother to choose a girl who takes care of her feet.
Mamta Agarwal
http://www.poemhunter.com/poem/secret-of-beauty/