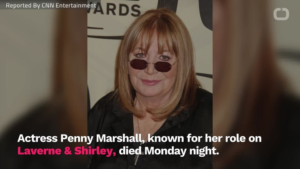 Actress Penny Marshall, known for her role on **Laverne & Shirley**, died Monday night.
A spokesperson for Marshall's family said she died peacefully in her Hollywood Hills home due to complications from diabetes,
Marshall was also known for directing **Big** and **A League of Their Own**.
**Laverne and Shirley** ran for eight seasons, from 1976 to 1983.
Marshall's family said in a statement that a celebration of the actress' life will be held at a later date to be announced.