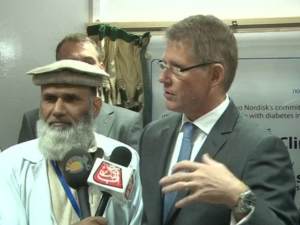 [videojs dailymotion ="https://www.dailymotion.com/video/x1el4r9″]
To meet the increasing burden of diabetic patients, Pakistan Institute of Medical Sciences (PIMS) has upgraded its Diabetic Foot Clinic to a full Diabetic Centre with the kind support of the Danish global pharma Novo Nordisk. Its facilities has been upgraded with state of the art equipment.
Mr. Lars Rebien Sørensen, CEO & President of Novo Nordisk A/S, who is currently on a two-day visit to Pakistan inaugurated the clinic, while meeting patients and discussing the impact of diabetes. Mr. Sorensen emphasized that diabetes is a disease that can be treated effectively and that it can be prevented through awareness and healthy lifestyle. The Diabetic foot clinic was established in 2007 which was first clinic of its type in Northern Pakistan and has up to now treated almost four thousands patients and has avoided hundred of amputations.
The upgraded center will provide diagnostic and treatment facilities to diabetics' patients according to international guidelines, which will also include care of all complication including diabetic foot problem. Diabetic patient data registration has also been established with latest computer technology.