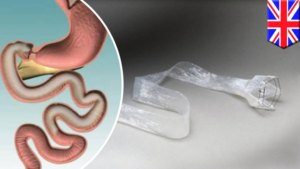 LONDON — Imperial College London has launched the trial use of a device known as the EndoBarrier, aimed at treating obesity and type 2 diabetes.
The EndoBarrier, developed by GI Dynamics Inc., is a 60-centimeter-long plastic tube. It is placed at the end of the stomach into the small intestine via the mouth.
The plastic surface prevents food from being digested by the intestine and tricks the brain into feeling full. This also provokes the production of glucagon-like peptide, a hormone that drives the production of insulin.
"One of the great advantages of the EndoBarrier is that it does not rely on surgery or medication to achieve its effect. Using a lower cost and less invasive alternative to bypass surgery could enable us to treat thousands more people living with type 2 diabetes every year," Professor Julian Teare from Imperial College London's Department of Surgery and Cancer and the leader of the study said in a statement.
The EndoBarrier has to be removed from the body after a year. Researchers hopes the metabolic changes made will be permanent even after the removal of the device.
—————————————-­­———————
Welcome to TomoNews, where we animate the most entertaining news on the internets. Come here for an animated look at viral headlines, US news, celebrity gossip, salacious scandals, dumb criminals and much more! Subscribe now for daily news animations that will knock your socks off.
Visit our official website for all the latest, uncensored videos: http://us.tomonews.net
Check out our Android app: http://bit.ly/1rddhCj
Check out our iOS app: http://bit.ly/1gO3z1f
Get top stories delivered to your inbox everyday: http://bit.ly/tomo-newsletter
Stay connected with us here:
Facebook http://www.facebook.com/TomoNewsUS
Twitter @tomonewsus http://www.twitter.com/TomoNewsUS
Google+ http://plus.google.com/+TomoNewsUS/
Instagram @tomonewsus http://instagram.com/tomonewsus