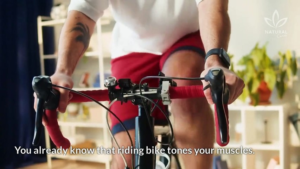 In this video you will learn the benefits of cycling.
In the last two years, many people started riding their bikes on the streets.
Not to mention those who have stationary bikes at home and can pedal without going out.
Besides being good for your physical and mental health, bikes are a cheap, sustainable means of transportation.
It doesn't matter if you want to get away from traffic jams or looking for a healthier lifestyle, there are countless reasons for biking.
If you plan on using a stationary bike, you can combine your exercise time with your favorite TV show or even read a book while riding.
See how changing your car for a bike, even if only once in a while, can change your life?
This activity, allied to healthy eating and regular trips to your doctor, will improve -and a lot!- your quality of life!
So, let's bike!
0:00 Introduction
0:05 Cycling benefits
0:28 Weight loss
0:34 Improves muscle tone
0:45 Helps prevent and control diabetes
1:00 Controls blood pressure
1:15 Helps in the recovery from bone lesions and arthritis
1:30 Doesn't harm the joints
1:40 Offers wellness
2:16 Outro
#cycling #health #naturalcures
—————————————-
Disclaimer: The materials and the information contained on Natural Cures channel are provided for general and educational purposes only and do not constitute any legal, medical or other professional advice on any subject matter. These statements have not been evaluated by the FDA and are not intended to diagnose, treat or cure any disease. Always seek the advice of your physician or other qualified health provider prior to starting any new diet or treatment and with any questions you may have regarding a medical condition. If you have or suspect that you have a medical problem, promptly contact your health care provider.